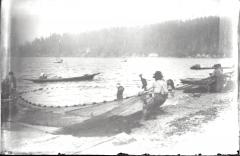 The Yakama Nation protects the fish
Yakama teachings mandate that we advocate for the resources that cannot speak for themselves, and we provide outreach and education activities that empower others to do the same. The Yakama Nation protects the Columbia River resources through responsible management with our partners, and our unique treaty rights and sovereign status within the United States. 
Yakama Nation Fisheries seeks to ensure sustainable fisheries by integrating our management of harvest, hatchery production, and land and water impacts for the highest possible contribution to fish health.
Yakama Nation works closely with our state and federal co-managers, local governments, NGO's and the public to protect and restore the aquatic resources we depend upon. 
Yakama Nation protects its treaty reserved rights in all venues for the benefit of the resources of the Columbia River and its tributaries.
Yakama Nation community and natural resources programs assess vulnerabilities and risks identified in the Climate Adaptation Plan for the Territories of the Yakama Nation (April 2016).
Key laws, decisions and agreements
"For the Yakama people, fishing for salmon is "not much less necessary to the Indians than the atmosphere they breathed." - U.S. Supreme Court Justice Joseph McKenna in the landmark 1905 US v Winas Supreme Court decision.
1855 Treaty - The Yakama Nation (912 stat. 951) reserved rights under the Treaty of 1855, include the rights to hunt, gather foods and medicines and take fish in all usual and accustomed places.
1969 Belloni Decision - Upheld that Yakama, in its treaty, reserved existing fishing rights in the Columbia River.
1979 Boldt Decision - Ruled that Yakama has a right to harvest fish in Puget Sound usual and accustomed.
2008 Columbia Basin Fish Accords - Funds Yakama salmon restoration work in the Columbia Basin over a ten year period.