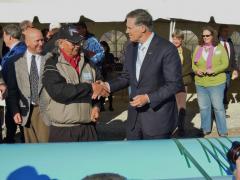 Atwi (the late), Johnson served as the Yakama Nation Cultural Resources Program Manager. The program oversees hundreds of archeological projects each year. He insured protection of Cultural Significance on the Yakama Reservation and the ceeded lands. His knowledge of the Yakama history and language supported the findings in the projects conducted.
Mr. Meninick is in the Ellensburg Rodeo Hall of Fame. Johnson enjoyed singing with family at powwows throughout the northwest. He was lead singer of "Yakama" drum group. A song from his group is featured in the beginning of our Yakama Nation Fisheries film "100 years ago and today: Sockeye in Cle Elum." 
Johnson is a source in numerous publications including: Return of the Wapato (By Emily Washines and Jerry Peltier) as well as Indigenous rights, water, and development in Washington State: the Skokomish and the Yakamas (co-authored by Stefanie Wickstrom, Rex Wirth, Emily Washines).