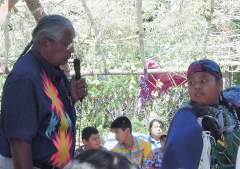 As a Yakama elder and fisherman, Tony assists with numerous Wa'ashat ceremonies throughout the usual and accustomed areas of the Fourteen Confederated Tribes and Bands of the Yakama people. Tony's family harvests salmon from tribal fishing sites on the Klickitat River using ancient and present day fishing techniques. He is often called upon for his extensive knowledge pertaining to fishing, family lineage, land, resource, and oral history. He dedicates much time to family as well as passing information to the younger generations. 
---
"It was a wonderful utopia for a teenager, to live off the land literally. We have a sense of independence and taking care of our own and being self-sufficient. That's what this land taught us." - Tony Washines
---
Tony is featured in the following:
Quote, included on PacifiCorp Interpretive Panel located at Northwestern Park, White Salmon,WA  2012-Present. [Quote also in Oregonian article: A White Salmon River free of Condit Dam is monumental for tribal elder, kayaker and a fish biologist]
Film Interview, OPB: The White Salmon River Runs Free: Breaching the Condit Dam, February 2013.
Quote, Crosscut: The lamprey, close to extinction, could bring down NW salmon too. March 02, 2012.
Quote, The Seattle Times: Condit Dam next to tumble in restoration plan. October 2, 2011.
Panelist, Sustainable Seafood, Seattle WA. July 1, 2011.
Speaker, Whole Foods Market Speaker Series: Fishing for Answers. June 21, 2011. [Article: SeafoodSource.com: Whole Foods tackles consumer confusion]
Keynote, Future of Our Salmon Conference, Portland, OR June 1-2, 2011. [Tony highlights in The Columbia Basin Fish and Wildlife Bulletin and Cynthia Coleman's Blog]
Speaker, International Association of Culinary Professionals annual Meeting, Portland, OR,  2010. 
Quote and Photo, Ecotrust article: Tribal-caught salmon in the city: Yakama tribal members bring ancient traditions - and fresh salmon to the Pearl
Quote, The Arlington Times: Stillaguamish Tribe starts buffalo herd with help from the Yakama Nation. August 27, 2008.
MC, Naimuma Pow-Wow, Portland, OR. May 3, 2008
Quote, Media Kita: New marketing increasing sales, December 25, 2007
Presenter, salmon fishing net, Yakama Nation Wildlife Youth Camp, 2005.