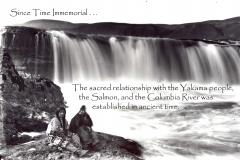 Yakama's Relationship to the Salmon
One of Yakama children's earliest memories is sitting at the ceremonial table and waiting for the water to be poured. Next, the salmon is placed on the table, followed by the deer, roots, and berries. We complete the meal with water. We are taught this order and that water is the lifeblood of our existence.
The relationship between the People, the Salmon, and the Columbia Basin is the foundation of the time-honored laws of the Yakama people.
The Yakama Nation accepts responsibility as stewards of the salmon and the Columbia, which we call Nch'í Wána. The Yakama Nation's history, culture, and the lives of our people are intertwined with the salmon and the Columbia.
Yakama and the Columbia River Today
Since 1983, we have achieved success by combining our traditional knowledge with cutting edge science.
Today, we employ 200 people working on more than 100 projects in ten sub-basins in the Columbia River basin.